How to Export a ticket data? #
In order to export ticket data, posts, order statuses and other details you can follow these simple steps.
STEP # 01 #
Open your IMPAKTT admin panel.
STEP # 02 #
Go to Tools –> Export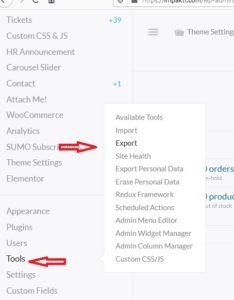 STEP # 03 #
On this page, Chose your desire data to export.
STEP # 04 #
Make the desired selection and click on Download Export File button present at the bottom of the page.
STEP # 05 #
It will prompt to save or open directly this XML file.
Chose to save the file and download it.